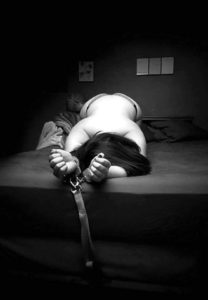 I am trying to understand most Americans' hang up with sex and "deviation" from the missionary position. There is so much out there to explore and experience. One of my friends honestly got into a debate with a co-worker, and I use debate lightly as they were barely audible, about who should be on top – the male or female. I couldn't help myself; "Give me a break," I said. They were not talking to me, and like I said, they were whispering, but they were like a foot from me. Since they have recently come to know some of my sexual predilections, I assumed they wanted me to hear. "We were not really asking your opinion."
"Obviously not," I replied, " as I am not from the Victorian era where a woman lain quietly underneath her partner and politely and quietly faked an orgasm." I left the room to glares and more whispers and pondered what the heck was wrong with some people.
One of my favorite blogs, This D/s Life, and the current post , which consists of Molly, the sub, talking about an event that she and her Dom attend regularly. You see, the men dress in suites and the women are naked – for the entire event, buffet and all. You will have to read the post to get the whole story, but it was simply the idea that such an event existed, and has existed for it to become a ritual for the couple that got me thinking that I could not be in the minority.
I cannot say that I have ever attended such an event. Unless I can find a great disguise as my profession would not allow for that public expression of my liberal views on sex, I doubt I will ever have the opportunity. With that being said, this post jump-started my desire to do more in places where I am not exposed so publicly. I already have silk sashes, leather cuffs, a riding crop, paddles and the like. I am the Dom, as I have said before, having been trained by the Marquis, but I do allow for some leeway at times. I do love a good spanking. In the end, being tied to my bed, naked, waiting for my partner to come back and fuck me is not such a bad thing.
"I like it doggie style" is what I will say next time those naive "women" whisper next to my desk. See how that suits them.