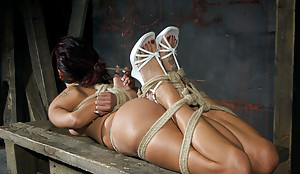 It has been a miserable day… getting word of losing a large bid, having meetings canceled and generally being unproductive from start to finish. A wasted day. One that I will never get back. And I know as I near home that she had nothing to do with it but it is she that will pay for the mood I find myself in.
As I walk through the door, I instruct her to bring me a drink and then go lock herself away in her box until called upon. A man needs his time alone to relax and reflect after all, no? As the minutes pass and the glass is emptied, I let the calm of the quiet house wash over me. My mind moves from the day's disappointments to my woman, my wench, stowed away in the large chest at the foot of our bed. But there is still an edge to my day that will need to be tended to. Yes, it is time.
She had read my mood well and obeyed perfectly. What a wonderful object, my woman, my pet. I find her in the chest, top closed, perfectly still, awaiting me. I open the chest and offer her my hand as she struggles out of the box and onto her feet in front of me. Not a word is spoken and not a word will be the rest of the night. I give her a look, eyebrow raised, that she immediately interprets correctly as she disrobes hastily and again comes before me but on her knees with her head bowed, chest out and hands clasped behind her back. She waits patiently as I walk around her, admiring her curves and deciding just how to take my satisfaction.
I grab her hair tightly and pull her to her feet, kissing her hard with her head immobile against mine. With her eyes glued to mine, I reach down and twist her nipple long and hard. She continues gazing into my eyes but I can see the mist in them as she fights back the pain and tears …
Secured in my stocks, hands and head sticking out of the thick oak plank, too low to stand erect so she is bent over with her ass displayed proudly for me to see. After securing her ankles to the spreader bar, she is immobile and ready for the fun to begin. The long, thin paddle comes out and she bleats after each stroke on that proud butt of hers. What a wonderful ass she has! It is not until she cries out in pain that I realize that both her cheeks and her thighs are throbbing and red from the beating. I put the paddle down.
In front of the stocks now, I pull my pants off and offer her my soft cock, waving it in front of her face, just outside the reach of her mouth and tongue. After a little more teasing, I allow her to work my member to a full erection.
Walking back to her exposed womanhood, I grab a small dildo and the industrial-sized vibrator that I know is her favorite. I work the dildo into her pussy, slowly until it is well lubricated and then start moving it in and out at an easy pace. With my other hand, the vibrator is applied to her swollen clit. In what seems like no time at all I hear her whimpering as she struggles to push back against the vibrator and dildo, ready to orgasm. Of course I pull the tools back away and stand there chuckling to myself as she moans in frustration of almost being there. After a moment or two, I reapply the vibrator but replace the dildo with my now hard member, fucking her hard until she cums. But before I do, I pull out of her and slowly insert myself into her still bright red ass. At first slowly, but with building speed, it is not long until I reach satisfaction, slamming hard into her sore butt cheeks until I cum.
Leaving her in the stocks, I wander off to take my shower and ready myself for bed. Then, letting her out of the stocks, unclasping her ankles and helping her into the bed, she curls up at my feet and falls immediately into a deep and restful sleep. As I fade away into my own slumber, I wonder what tomorrow will bring.