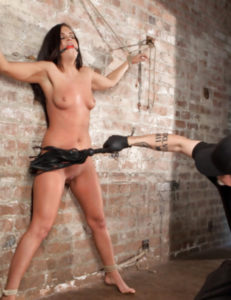 I follow the curves, from long sleek calves to shapely and full thighs. As my vision moves up and focuses in to her beautiful round and full ass, I start to daydream about how perfect her backside would be for a finely administered spanking. I find myself imagining her lying across my knees, skirt up and panties pulled down to her knees, struggling to maintain her composure as I massage her plumpness. Tender to the touch, she lets out an almost inaudible moan of satisfaction. And then with no warning, it comes … a loud smack as my hand connects with one of her cheeks, leaving the slightest of pink imprints of my hand. And then another to the same, now more sensitive spot but harder and coming rapidly. Smack, smack, smack. She squirms as she tries to stay still, taking it as her due but I can see she is losing that battle as she tries to adjust her position to alleviate those spots that I have already turned tender and red. I keep up the tempo but start to alternate cheeks, and on each cheek different spots so before long her entire ass is one throbbing red mark from the small of her back to the crease at her thighs.
I am interrupted in my imaginings as my companion for the evening decides at that moment to say something of no consequence. When my companion sees that she has intruded upon my contemplations, she immediately understands that whatever was in my mind with be played out on her later in the evening. The rest of the evening out is uneventful as I anticipate going home for some real life play to match my earlier fantasies.
Not over my knees, not with my hand, but spanked she will be. I choose a light and flexible leather paddle as my tool as I bend her over the dining room table. I pin her arms behind her back with one hand as the other swings the paddle, not hard swings but rather quick with a flick of the wrist to effect more of a snap as it connects with her derrière. She clenches her teeth and squeezes her lips tight to hold back any acknowledgement of the pain. After several minutes, she can hold back her torment no more and lets out a small squeak. I know it is enough. Fun has been had. I take her hand and lead her to the bedroom where both our releases are assured.